Column agitator for laboratory and research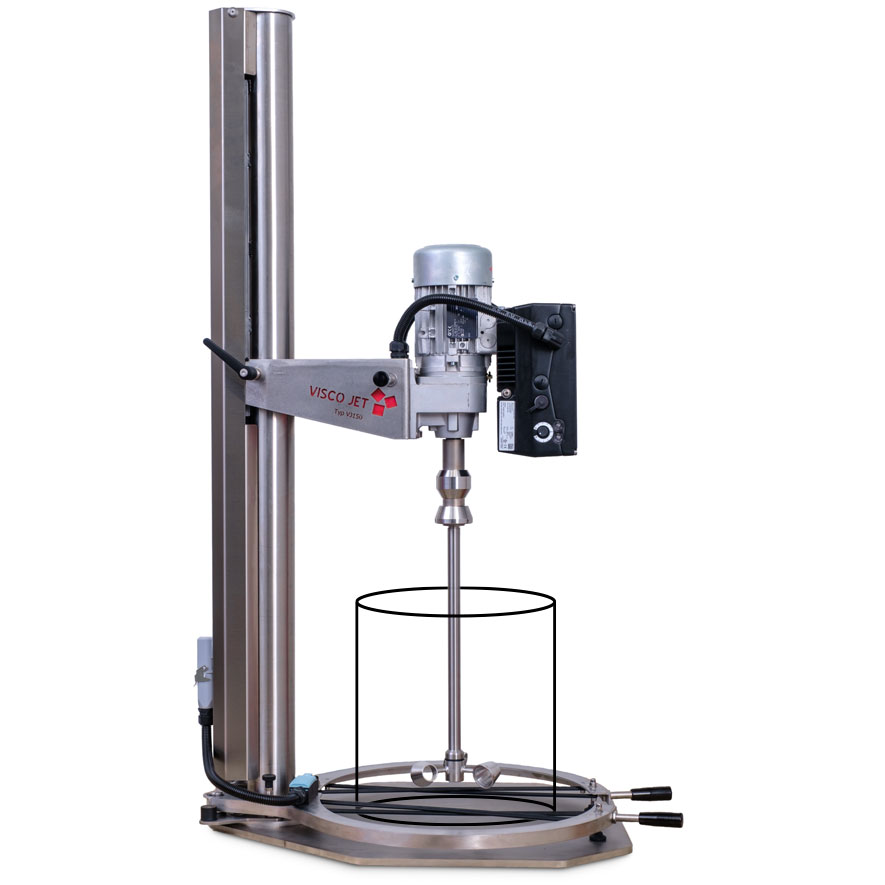 The power package for small containers and vessels
The VJ150 is the ideal agitator for vessels with a diameter of up to 400 mm, initially in order to be able to carry out agitating tests on smaller scales quickly, easily and flexibly.
The VJ150 offers maximum flexibility for daily work in the laboratory with a 0.25 kW drive including a mounted frequency converter, infinitely variable height adjustment, safe vessel clamping and a convenient quick-change coupling.
The multifunction tool for more productivity
Well thought-out, right down to the smallest detail
The VISCO JET® VJ150 is the perfect solution for agitating low to medium viscosity products in vessels up to a volume of 50 litres.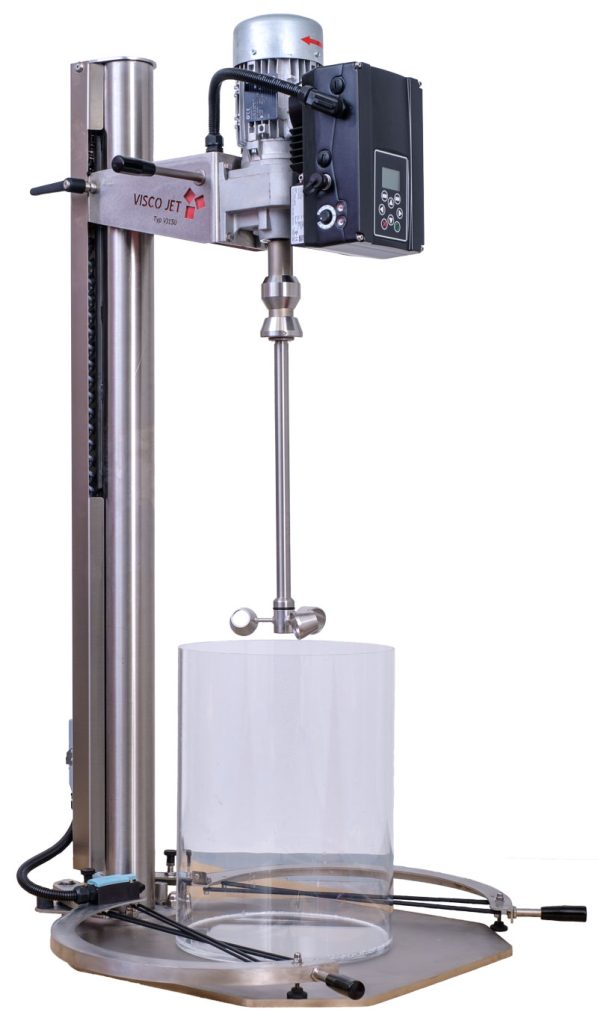 Drive power: 0,25 kW
Power supply: 230 V / 50 Hz
Lift height adjustment: manual and continous
Lift height: 400 mm
Height with lift fully extended: 1.290 mm
Height at lift retracted: 1.249 mm
Safety switch in the vessel clamping device to release the agitator for operation.
Operation of the agitator is only enabled after positive feedback from the safety switches.
Column: stainless steel 1.4301
Mixing unit: stainless steel 1.4404/1.4571
inclusive quick-release coupling
2006/42/EU: Machine safety
2014/30/EU: Electromagnetic compatibility
2014/35/EU: Electrical equipment designed for use within certain voltage limits
additional mixing units for more flexibility in the daily work
vessel clamping to mechanically prevent the container from twisting or moving and thus minimise the risk of accidents
additional mounting plate for independent stand of the agitator without screwing the agitator to the table
product-wetted parts ground or e-polished with Ra<0,8 µm or Ra<0,4 µm
You know about it and want to tackle it?!
… or we'll call you back:
Nothing is as valuable to us as your time. That is why we are happy to prepare specifically for you. We will call you at your preferred time and clarify your questions. This is how we save your time and make your project successful with VISCO JET® solutions! We look forward to seeing you!