The pilot plant agitator for research and production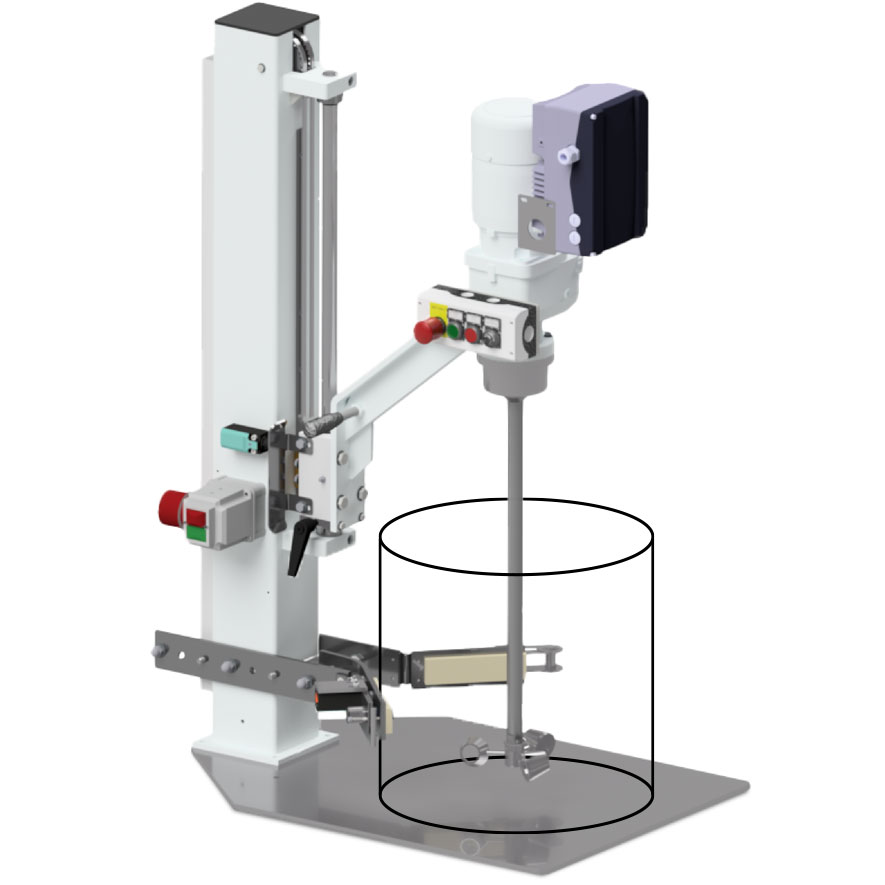 The compact solution
Discover the ideal solution for your development processes in the pilot plant or laboratory sector!
With the VJ200 from the VISCO JET® compact column series, you can quickly, easily and flexibly carry out agitating tests on a smaller scale up to a container height of 500 mm and a diameter of 400 mm and scale them up to production volumes later.
But that's not all – the VJ200 with a 0.37 kW or 0.55 kW drive, infinitely variable height adjustment and integrated strap solution for container clamping can also be used for simple and fast agitating processes in small containers in production.
In addition, the ATEX version of the VJ200 can also be used for applications in zones 1 or 21.
In combination with our switch set and control solutions, it can also be individually tailored to the needs of our customers.
The compact tool
for the laboratory and pilot plant
Well thought-out, right down to the smallest detail
Discover now how the VJ200 can help you handle almost any requirement in the pilot plant or laboratory area and increase your efficiency and precision during the development and production process. Because with us, not only do you get proven quality when it comes to agitator technology, but also a wide range of additional options to help you meet individual requirements.
Drive power: 0.37 – 0.55 kW
Power supply: 400 V / 50 Hz incl. plug for plug and play solution
Lift height adjustment: Manual and variable
Lift height: 500 mm
Height at highest lift position: 1,650 mm
Height at lowest lift position: 1,145 mm
Mounting directly on the table or via a base directly on the floor
Working position switch
Container clamping via a strap solution including safety switch
Operation of the agitator is only enabled after positive feedback from the safety switches.
Column: Steel lacquered RAL9010
Agitator unit: Stainless steel 1.4404/1.4571/1.4301
2006/42/EU: Machine safety
2014/30/EU: Electromagnetic compatibility
2014/35/EU: Electrical equipment designed for use within certain voltage limits
Optional: ATEX version according to RL2014/34/EU
Quick-release coupling for easy and uncomplicated changing of the agitator units for different containers and agitating tasks without long set-up times.
ATEX design of the agitator for zones 1, 2, 21 or 22 in the container according to the requirements of Directive 2014/34/EU
Individual or standardized lid designed as splash protection
Ground or electropolished finish of all components in contact with the product with Ra<0.8 µm or Ra<0.4 µm for even easier, faster and safer cleaning
Additional base plate for independent stabilisation of the agitator without screwing it to the floor
Different switch set and control variants with safety category SIL3, which make the manufacturing process more efficient and reproducible, e.g. by setting the agitating speed and time
Drip catcher for a clean workplace
You know about it and want to tackle it?!
… or we'll call you back:
Nothing is as valuable to us as your time. That is why we are happy to prepare specifically for you. We will call you at your preferred time and clarify your questions. This is how we save your time and make your project successful with VISCO JET® solutions! We look forward to seeing you!